Socks for Me!
You may remember me posting about these often quite some time ago. These are the very first socks I ever started knitting but the third pair I've finished. I put them down for a looooong time and knit a gift pair and a Sockapalooza pair in the interim. This week I got sick of looking at them sitting in my knitting basket and decided to finish them. I can't wear them until fall, but it's good to have them done anyway. Can't wait to wear them!
I think I did a pretty good job of matching up the stripes--until I got to the toe on the final sock. I ran out of yarn and had to join the little piece that I wound off searching for the right spot in the color repeat to start the second sock. So the second sock has a weird brown and blue toe:
So if you have feet larger than about a women's size 8 or 8 1/2, you might want to steer clear of Magic Stripes.
Knitterly details:
Yarn: Lion Brand Magic Stripes, denim stripe
Needles: US size 1 DPNs
Mods: used size 1 needles instead of size 2s as called for in the tutorial (I did knit one sock on size 2s, and it turned out much to big for me.)
And since I have such a bingey personality, I couldn't resist casting on for a new sock. (It's a basic Silver's Sock Class sock in Magic Stripes again--I got two skeins at bargain basement price, so I may as well practice on it.) It feels really good to have a different project inhabiting my sock sack.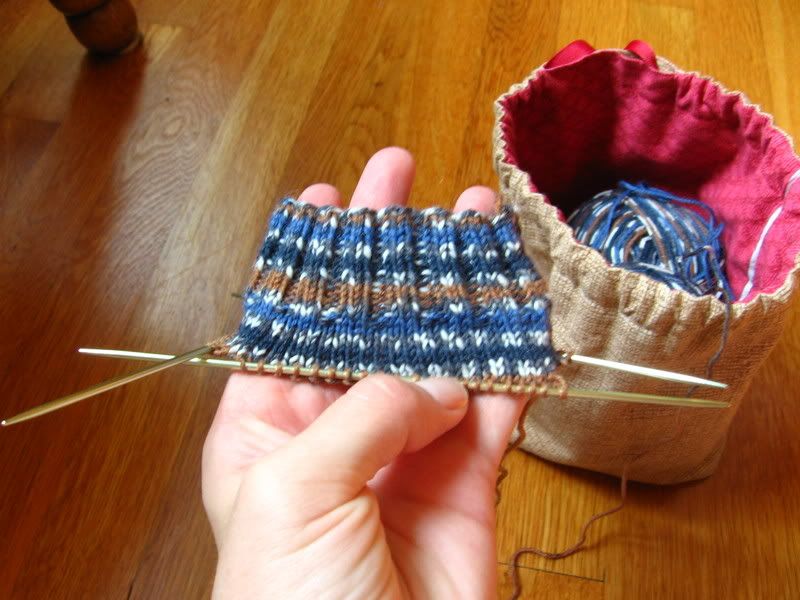 Labels: socks