Another Surprise
I'm doing another BSJ, this time for T. I adore this pattern. Such fun! Here are the fruits of two days of on and off knitting. I'm three ridges into the first set of increases: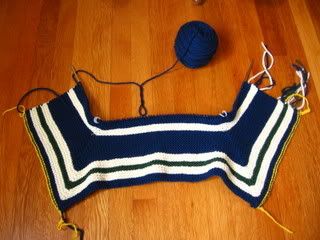 The knitterly details:
Yarn
: WOTA bulky in navy, emerald, and bare
Needles
: US size 9 Knit Picks Options
Pattern
: Elizabeth Zimmermann's
Baby Surprise Jacket

Mods
: crochet provisional cast on for sleeves so I can make them longer. I also added 9 stitches to each end of the cast on, since I'm not doing the increase above the cuff because of how I'm doing the sleeves.
This yarn and needle choice is rumored to yield a toddler size sweater. We shall see!
Labels: Baby Surprise Jacket, BSJ, EZ, sweaters