My Sweater Dilemma, and Other Knitting Tidbits
Several months ago I bought eight skeins of Cotton Ease in the pistachio colorway, thinking I'd make myself a sweater out of it this fall. (I found an insanely good deal on this yarn online--pistachio normally isn't my thing.) I've been searching for appealing sweater patterns, and I keep coming back to the
Dollar and a Half Cardigan
in the Spring 2007
IK
. I really, really like it. But I also really, really like how it looks in the dark brown (I think grey, navy, or any other dark color would be nice too). So would this sweater look totally wrong in pistachio (light
pastelly
green) cotton yarn?
I also like the look of the
Green Tea Raglan
from that same issue, but the thought of all that seed stitch doesn't really turn me on. I have some other yarn that I'm planning to use for an
EZ
raglan or yoke sweater, so I don't want to knit one of those with this pistachio yarn. Any other ideas?
I have been knitting (and crocheting) quite a bit recently, but I don't seem to be making much progress. Well, at least I'm not cranking out too many
FOs
. Here's what I've been working on: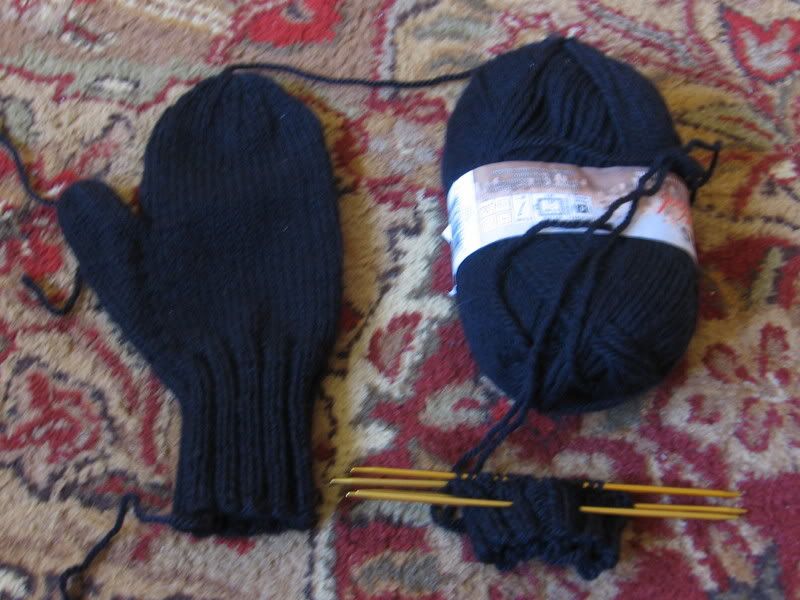 plain vanilla mittens in black merino
lamb

softie

for my little T man (I plan to add facial features and a ribbon bow), acrylic scraps
mistake rib scarf for the Red Scarf Project, Caron Simply Soft autumn red

I'm still plugging along on my
denim stripe socks
(working on them quite infrequently, a few rows here and a few rows there)
I recently made some crocheted play food and sent it to a mama I know on
Diaper Sewing Divas
as a little surprise for her little guys. My pics are awful, so I won't bore you with them, but I made the food from the
Dandelion Dreamers
patterns. Very, very fun! I plan to make T and the like-aged nieces and nephews sets for Christmas. I hope to have some better pics to share once I finish the Christmas gifts.